Welcome to Serenity Ranch
We are honored to be ranked in the top 10 B&B's in Canada
Thank you for your amazing support! A Better Way To Stay!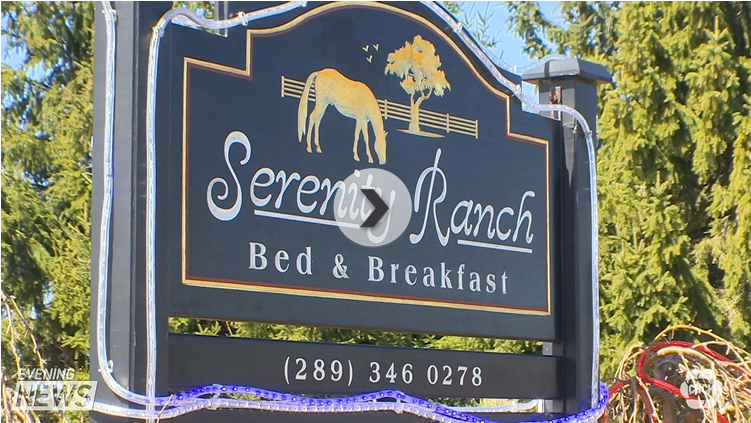 Located in the historic town of Ancaster, Serenity Ranch Bed & Breakfast is an award winning B & B that provides world-class accommodation for families, business travelers and couples looking for a romantic getaway in Ontario. Whatever your plans, we provide you with unparalleled service and everything you may need for a relaxing stay. We welcome children of all ages, and family dogs.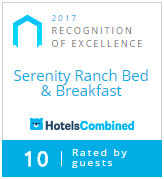 What to Expect
Serenity Ranch Bed and Breakfast offers 5 fully equipped suites, located on 2 acres of land surrounded by beautiful scenery in the heart of an Ontario Green belt. Our front wrap-around veranda comfortably seats 12 where guests are welcome to relax, read, chat, or appreciate the panoramic view of the countryside. Guests may also choose to enjoy afternoon tea beside the lily pond or rest at Sunset Cottage. These are just a couple of the cozy and unique Serenity Ranch features.
Free full Canadian breakfasts are available from 8:00 am to 9:30 am.
Free parking
Free telephone calls in Canada/US
Free high speed WiFi in all rooms and throughout the property.
Free in-room refreshments
Free fully-equipped guest laundry.
Our movie theatre has a 70″ flat screen HDTV with BOSE Surround Sound and BlueRay player. We have a large selection of DVDs.
Serenity Ranch has everything you need for the perfect weekend getaway.
Contact Us Today
---
Come Find Us
---
Subscribe
Subscribe to our newsletter and be the first to learn about our seasonal promotions and special deals.
By clicking "Sign Up" I agree to the Terms of Service.
Guest Reviews
We strive to provide an exceptional level of service for every guest, and are proud to have a 5-star rating on TripAdvisor.
Read Reviews